Join Emma and Fin in their hit lifestyle podcast. It's been our great pleasure getting to know this amazing couple. Their down to earth, friendly, and humorous approach make their show unique and incredibly fun to listen to. Each week they interview people to hear how they approach non-monogamy, what it means to them, and how it has strengthened and shaped their lives. If you'd like to hear the testimony of others and how they navigate their open relationships, you don't want to miss this podcast.
Loving Without Boundaries is the ultimate resource for anyone interested in swinging, polyamory, open marriage, etc. We wish we had found this site much sooner into navigating the lifestyle, it's a tremendous help. Run by the renown Kitty Chambliss, Amazon best selling author, key note speaker, influencer, relationship coach, and award winning podcast, everything you need to know regarding ethical non-monogamy is available at Loving Without Boundaries.
This is the very first informational video we watched when we began our research into a vegan lifestyle and to this day it's still one of the most impactful. James Wildman does an amazing job asking simple questions that society ignores. In his simple presentation, he highlights many benefits to a vegan diet while discussing the ethics behind it. While we feel everyone should seek out videos and see for themselves the hell on earth animals endure at the hands of mandkind, you won't find those gruesome videos here. Instead, James uses simple logic to deliver a powerful message. If you're even considering a vegan lifestyle, or want to know more about the beliefs behind them, spend the hour, watch this video.
Gary Yourofsky's entire inspirational speech held at Georgia Tech in summer of 2010. Listen to this amazing speaker who will blow away the myths, fill your mind with interesting facts, and help you make ethical choices for a healthy heart and soul. His charismatic and straightforward style is one of a kind – a must-see for anyone who cares about nonhuman animals or wishes to make the world a better place.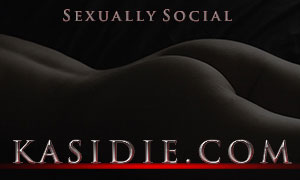 Kasidie is the first site we used to network with others in the lifestyle and to this day it's still our favorite. Whether you're searching for singles, couples, groups, naughty travel plans, parties, etc. it's all here. There's a large database of people and the accounts are real, unlike many of the competitor sites that are inundated with fake profiles and a difficult user interface. We'd highly recommend this site as your first stop to exploring the lifestyle. Use this link to get a month of the unlimited membership FREE